Bio | C/V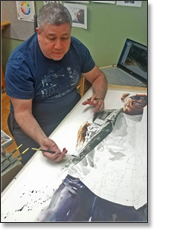 Born and raised in Chicago to a graphic arts family, Tony learned to create with textile, photography, drawing and painting.
Tony graduated from the American Academy of Art where he studied under renowned watercolor instructor Irving Shapiro. While still attending the Academy, Tony began work in the corporate world for over twenty years as a graphic artist, illustrator and web designer. Beginning in 2007, he started pursuing his interests in painting and teaching full-time.
Tony is a signature member of seven national artistic societies and for ten years served as the director of the Illinois Watercolor Society. Tony has won many awards in local and national juried exhibitions and has exhibited his work in many group and solo shows.
He currently lives and teaches from his studio in Palatine, Illinois. He is represented by the Hilliard Gallery in Kansas City, Missouri.
Statement
My paintings are portraits of timeworn structures and people in the urban landscape. Through a representational style, my intent is that the subjects convey a variety of stories told over years of life and work. By placing the viewer up close into the immediate space of the subject, I prompt them to establish a personal connection to these stories.
Through the use of high contrasts, intense sunlight, and desolate settings, a pensive mood is evoked in the work. Some of the subjects' stories are quiet and simple, and yet some are dramatic and profound. When painting urban scenes, the aging man-made structures I depict are often decaying, but my goal is to present them with dignity.
Affiliations
Illinois Watercolor Society - Signature/Director
Missouri Watercolor Society - Signature
North East Watercolor Society - Signature
Pennsylvania Watercolor Society - Signature, sgg (Sylvan Grouse Guild)
Allied Artists of America - Elected Artist
American Artists Professional League - Fellow Maxima Cum Laude (FMCL)
American Watercolor Society
Transparent Watercolor Society of America
Watercolor West - Juried Member