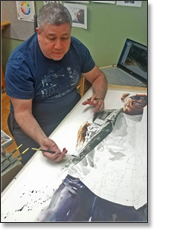 Biography
Tony Armendariz is an award winning American artist living and painting in Palatine, Illinois. Born and raised in Chicago to a graphic arts family, he learned to create with textile, photography, drawing and painting. Graduating from the American Academy of Art in Chicago, he studied under renowned watercolor instructor Irving Shapiro. While still attending the Academy, he began his employment in the corporate world for over 20 years as a graphic artist, illustrator and web designer.
Tony's work has been published, most notably in Fine Art Connoisseur, American Art Collector and Watercolor Artist magazines. Venues where he has exhibited include: The Butler Institute of American Art, RJD Gallery, The Salmagundi Club and Wausau Museum of Contemporary Art.
Some of Tony's awards include the Best of Show/Purchase/People's Choice, 2021 VMRC 18th Annual National Juried Art Exhibition, First Place, 2019 40th Annual International Juried Exhibition of the Pennsylvania Watercolor Society, Best of Show, 2018 42nd Annual International Exhibition of the North East Watercolor Society and Outstanding Watercolor, March, 2013 FASO Boldbrush Online Competition.
Tony is a signature member of many national artistic societies and for ten years served as the director of the Illinois Watercolor Society. He is represented by Hilliard Gallery in Kansas City, Missouri.
Statement
My paintings concentrate on portraits and figurative work sometimes combined with architectural elements. With my subjects displayed in situ, it is my intent to display their soul/authentic self which at times, may not reveal itself to me immediately. Many times the "window" opens and shows itself not only through the eyes but also through the many other features which are used to emote the ranges of expression including the mouth, hands and body language. Sometimes it may also include other props such as clothing and items of domestic life and work. The range of the subjects' stories can be quiet and simple, and yet some are dramatic and profound.
Affiliations
Allied Artists of America - Elected Artist
American Artists Professional League - Signature
American Watercolor Society
Illinois Watercolor Society - Signature, Executive Director (2007 – 2017)
Northwest Watercolor Society - Signature
North East Watercolor Society - Signature
Pennsylvania Watercolor Society - Signature-sgg (Sylvan Grouse Guild)

Watercolor West - Signature